Podcast interview with Unstoppable Tracy Schmitt
What is it really that is holding you back from doing the things you want to do in living the life you want to live?
Today, you are going to hear from somebody unstoppable. That's who she is. That's how she is. And it is how you are going to feel after you listen to her.
Subscribe to the podcast:
Years ago, I read a book called "The Magic of Thinking Big" by David J Schwartz. I had picked it up at the suggestion of last week's guest, Kevin O'Hara of Alcohol Mastery. One of the first things in that book is a section on what Schwartz calls excuse itis. He hits you right in the face, asking you what areas of your life you are using as an excuse. Your health. Your job. Your relationships. Your upbringing. Your environment. Your finances. When I read that, I remember that being really sobering to realize how many things I was hiding behind, never really coming anywhere close to what I always thought my full potential might be as the days weeks and months continued to slip away.
I'm going to warn you right now, today's guest may very well have the effect of making you take a very hard look at yourself and the excuses that you might be making. If you want to continue listening to your own excuses and self limitations, turn this off. You're not going to like it. But if you're at the point, like me, of trying to really embrace your your authentic self and challenge yourself to live life on your own terms and in the best manner possible, this conversation is going to seriously charge you up.
Meet Unstoppable Tracy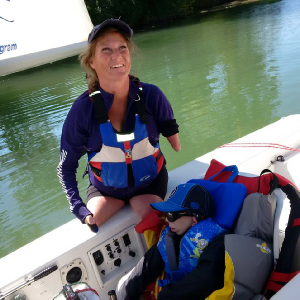 Unstoppable Tracy Schmitt is an award winning Leader, Humanitarian, Advocate, Decorated Athlete and International Speaker. She is now adding "author" to her long list of amazing accomplishments. Her upcoming book  is called "Unstoppable YOU; Exceed Uncertainty, Embrace Possibilities, Earn Independence."
Tracy has been featured in Oprah Magazine during her latest adventure as Quest for the Gold Athlete who competed in World Cup Olympic Class Sailing! Tracy has been was Thrive's magazine cover girl. She has climbed mountains in Nepal, captained 110-foot-tall ship in the Eastern Atlantic, won a bronze medal in para-alpine skiing trial and has worked as a Corporate Consultant while at Air Canada (AC) and Shoppers Drug Mart (SDM), two of Canada's largest and most recognized brands.
Oh, did I mention she was born a 4-way amputee?
That's right. Unstoppable Tracy does not have any fully-formed arms or legs. Try to keep that in mind as you hear her speak and then maybe ask yourself … what is it, really, that is holding you back?
Some of the key things I took from my time with Unstoppable Tracy include:
Just pack up and go to Miami – Sometimes, you just have to jump. Just go. Follow your heart. In Tracy's case, it was going to Miami against all "reason."
"I don't hear no, I hear counteroffers" – You know that old phrase, "Never take 'no' for an answer?" That's Tracy. She doesn't hear 'no.' She hears opportunities for another way.
Scared into being a Paralympian – Tracy tells a riveting story of her flight during Hurricane Sandy, and how it scared her into doing what she knew would feed her true passion.
Are you ready to feel unstoppable?
Here is Unstoppable Tracy Schmitt on Journeys with the No Schedule Man!

Listen, Watch and Subscribe to "Journeys with the No Schedule Man"
You can find those and all archived episodes at NoScheduleManPodcast.com or at: Apple Podcasts (iTunes) | Google Podcasts | iHeart Radio | Spotify | Stitcher
Stay In Touch:
Subscribe here to get Kevin's free inspirational email updates.
After you confirm your subscription, you'll immediately receive an email with a free 10-page PDF on Kevin's "4 Keys To Contentment."
---
The founder of No Schedule Man Brand Media, Kevin Bulmer is a Strategic Marketing and Mindset Coach and Keynote Speaker. He is the producer and host of the momondays London inspirational event series, strategic marketing coach for Awesomepreneurs and is also host of the podcast, "Journeys with the No Schedule Man."
Day-to-day, Kevin helps heart-centered entrepreneurs find their "REAL" success so they can feel free to live and work happy. His overarching purpose is to uplift through a shared example of continual growth.